Skill Will Matrix
Optimize Your Workforce
A single, connected workspace to manage, plan, and monitor existing and desired skills of your employees. Analyze available skills and identify potential skill gaps to improve employee learning and development.
Powerful documentation capabilities for capturing employee data
Custom databases to keep track of employee skills for better project planning
Real-time collaboration to run meetings, workshops, and training sessions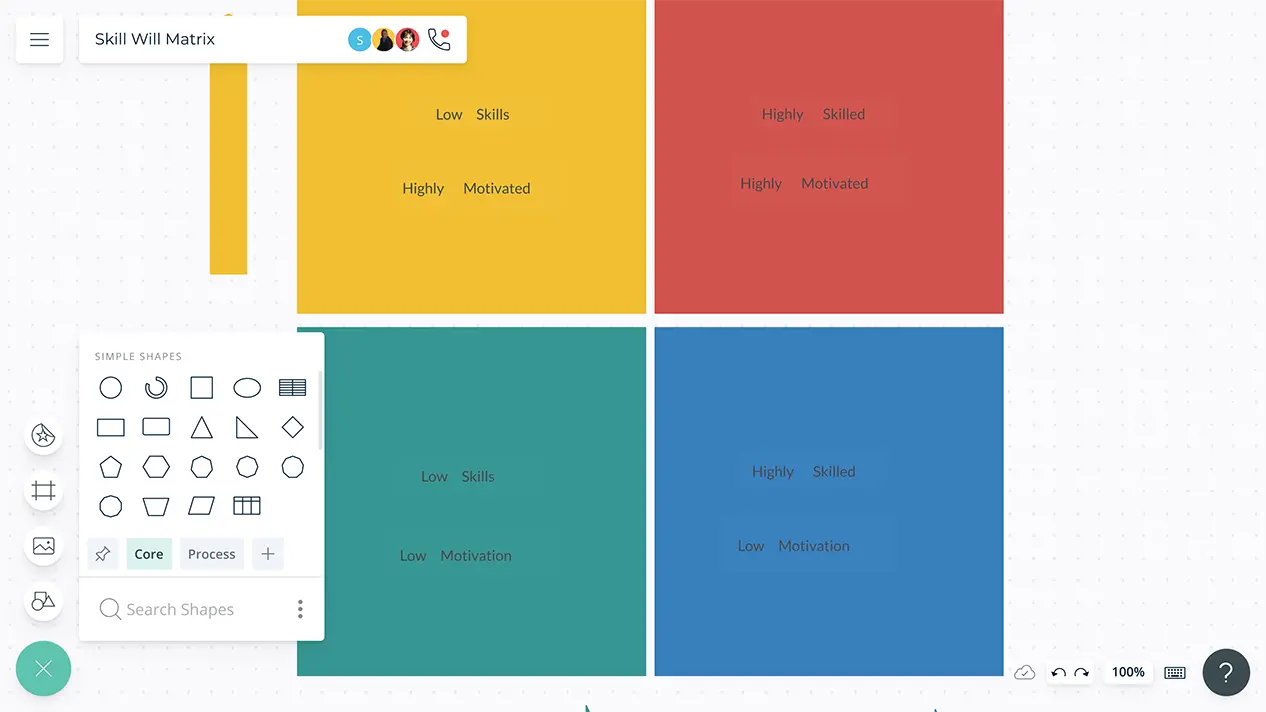 Over 10 Million people and 1000s of teams already use Creately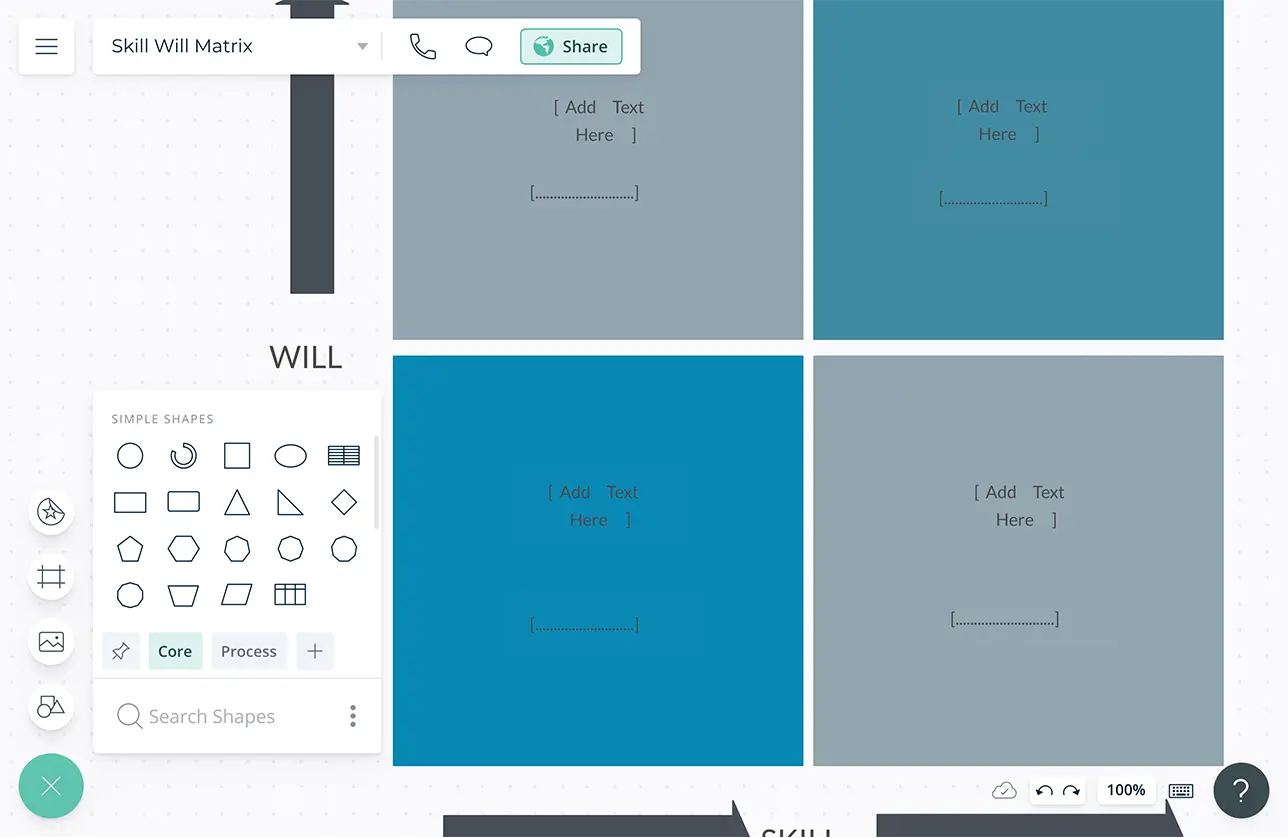 CONNECT & CAPTURE
Create Better Teams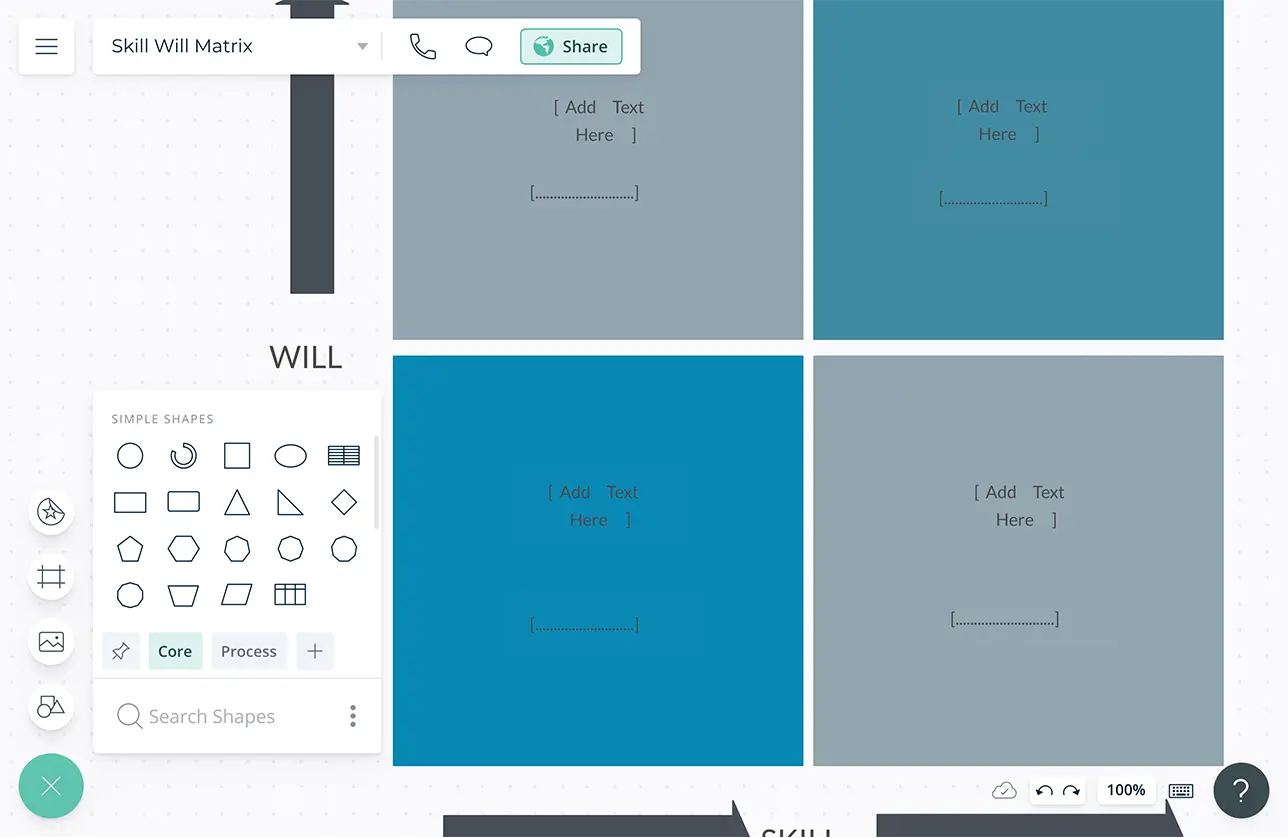 Migrate employee data from your HRM systems to visualize on the canvas as meaningful shapes to identify missing competencies and track employee development.
Create custom databases for any kind of information from employee survey data to employee personnel records.
Multiple app integrations to help you import and export data across teams on different platforms.
2-way sync to keep any change you make to your employee data on Creately reflected on the host app and vice versa.
Add detailed docs, attachments, links and more via the notes feature on each employee to centralize all related employee information.
VISUALIZE & ANALYZE
Understand Your Team's Capacity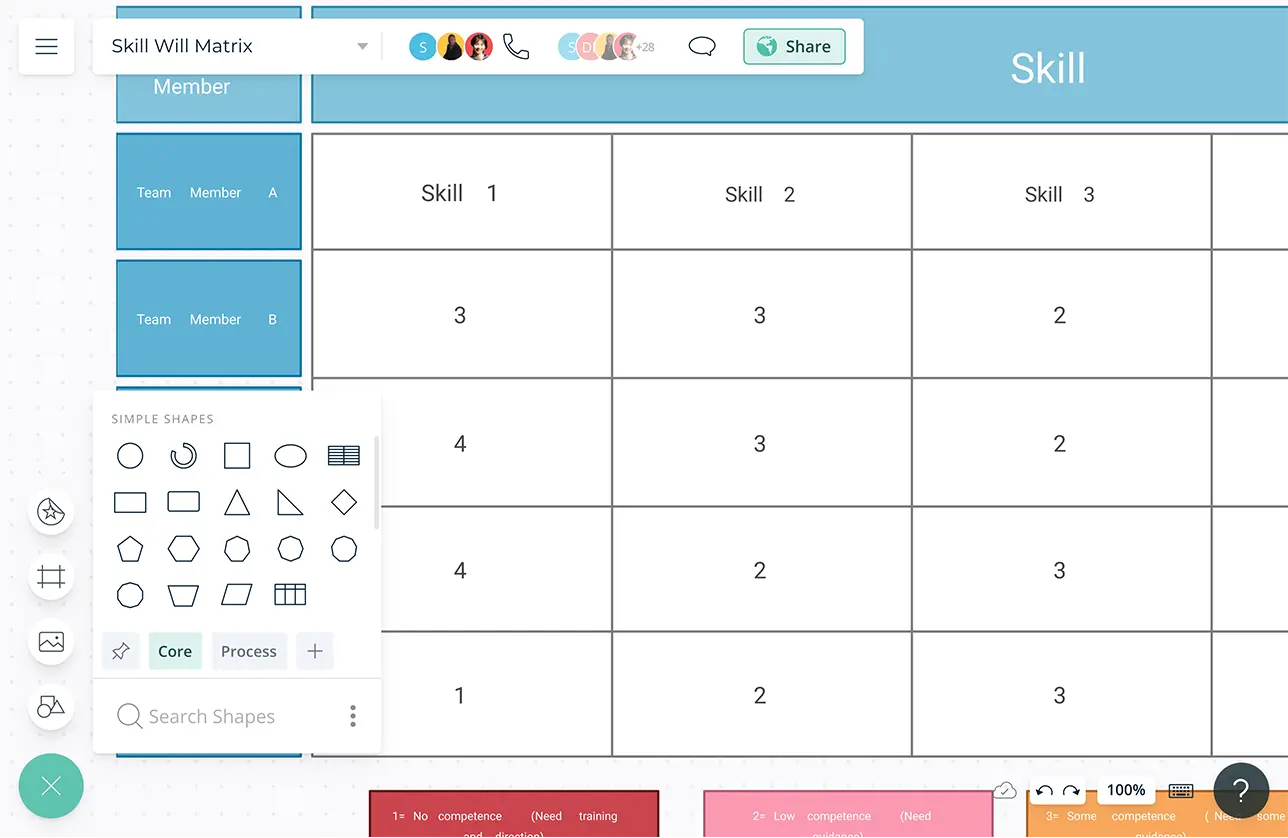 Multiple frameworks and templates to visually analyze skill gaps, overlaps, and identify opportunities for improving teams.
Easy-to-use visual canvas with powerful diagramming tools to visualize any structure you imagine; organizational charts, workflows, competency matrices, & more.
Create versatile tables with advanced customizability to keep track of your staff's skills, qualifications, certifications, and competencies throughout the whole organization.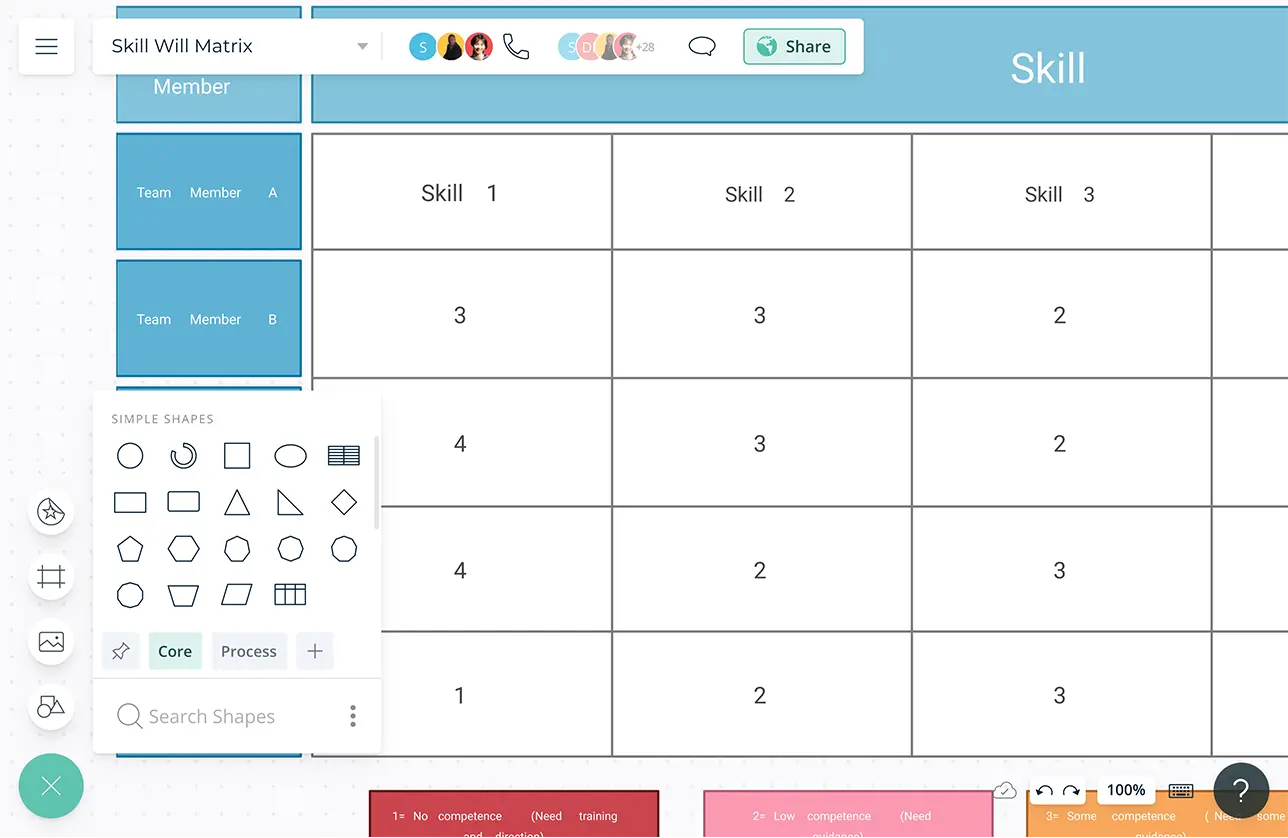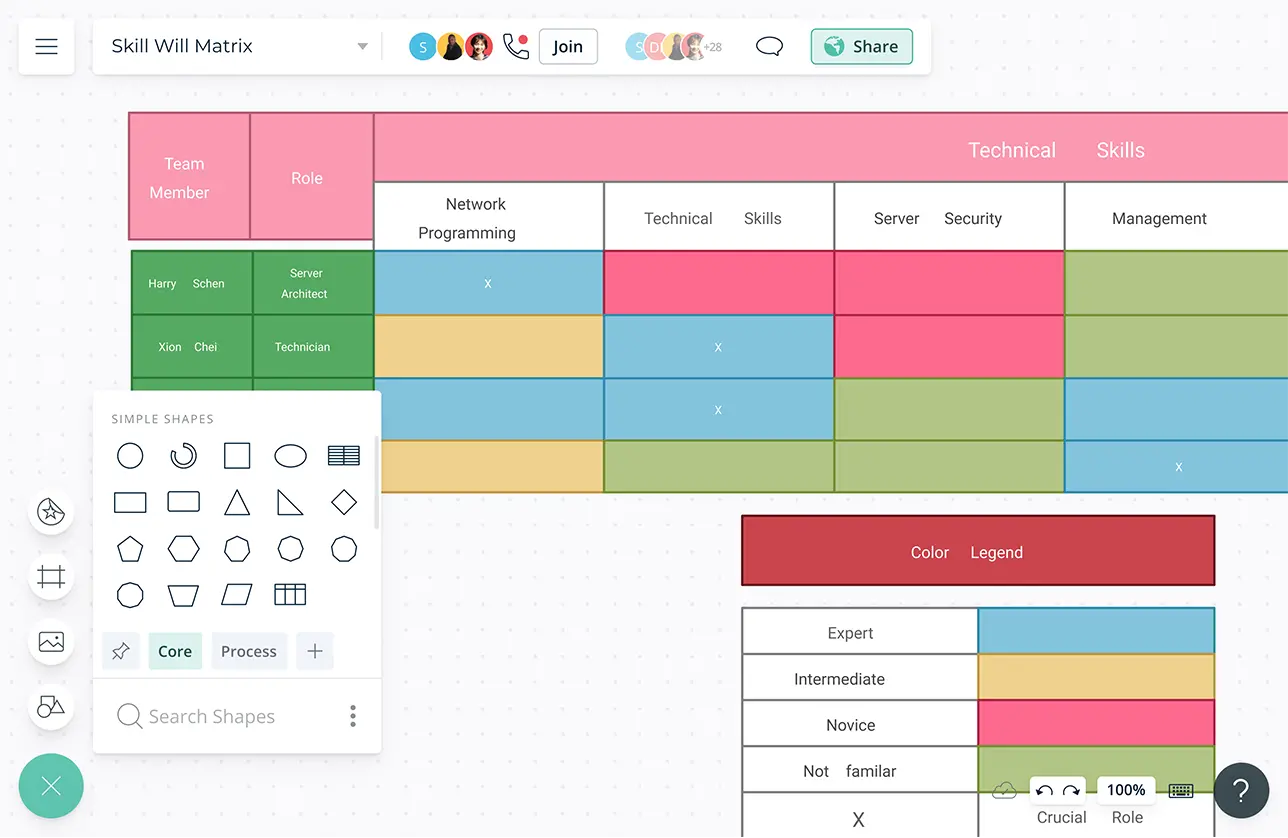 COLLABORATE
Connect All Teams Across the Board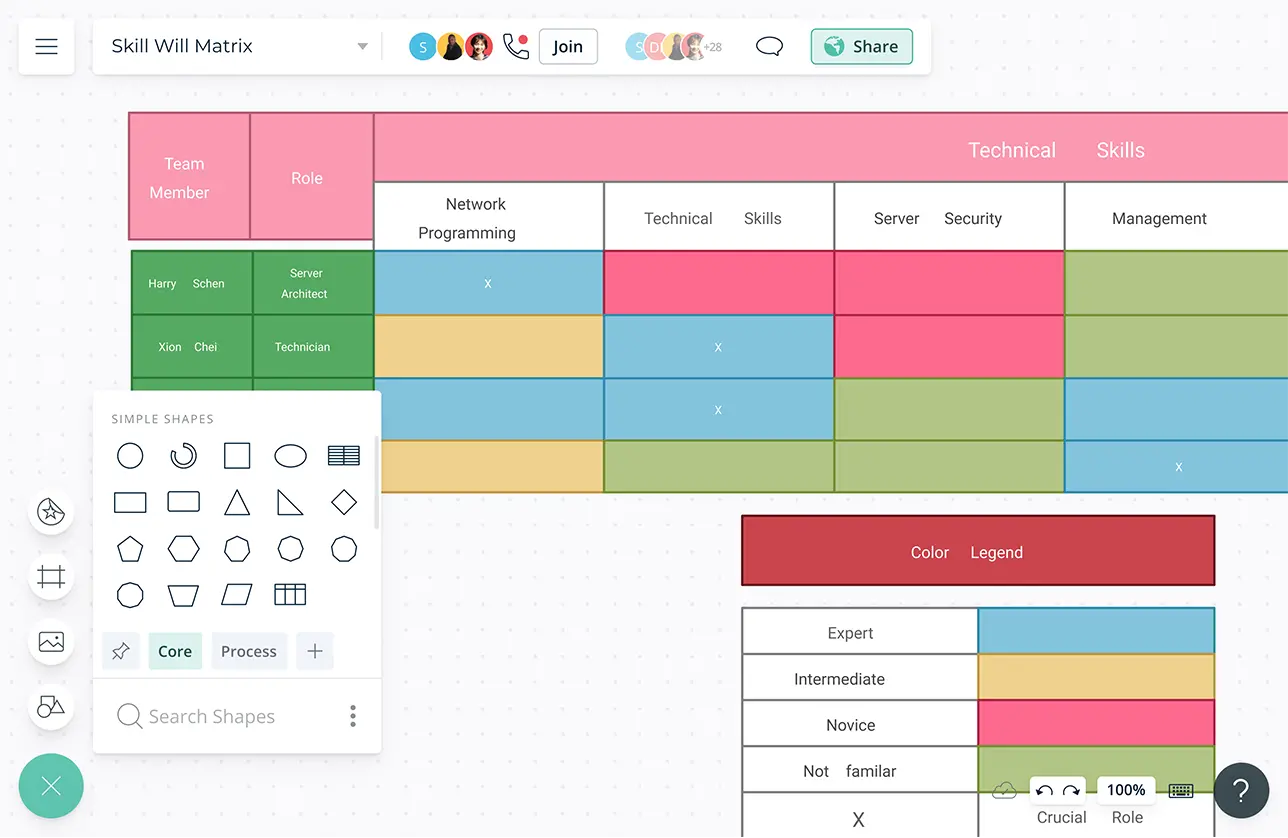 Multiple access levels and roles to streamline managing, sharing, editing, and reviewing your HR documents and plans.
Real-time cursors for any number of participants. Collaborate with team members on a shared canvas.
@mention comments to direct people to get things done or clarify things and comment threads to have discussions and follow-ups on the same canvas.
Video conferencing baked into the platform to feel like you are in the same room during remote meetings, workshops, or planning sessions.
What Is a Skill Will Matrix?
The Skill Will Matrix compares willingness to perform a task to the amount of skill the employee has to perform the task well. The matrix is plotted on a 2×2 quadrant. Each quadrant indicates how the manager should deal with or manage employees who fall into that specific quadrant.
How to Use the Skill Will Matrix?
Once you identify the employees, assess their skill levels, performance and willingness to get work done.
For the analysis, you can use a Creately skill will matrix template or quickly create one using Creately block diagram maker.
A person who has both high skill and will, is someone with experience. The best managing style for them is to set challenging goals, and continuously motivate them while closely monitoring their progress.
For an employee who has the necessary skills but a low will need to be coached properly. Motivate them and instill confidence necessary to finish their work.
With employees who fit into the low skill and high will category, try supporting them. Assist them with decision-making and performing their tasks.
If an employee has low skills and shows a lack of willingness, the role of the manager is to supervise and inspire them at the same time.
Based on the evaluation, alter your management style when dealing with employees that belong to the different quadrants of the skill will matrix.
If you wish to share the skill and will matrix with the employees or other stakeholders, you can easily embed it in your intranet, website or your Wiki pages using the Creately Viewer.
Now, compare yourself to your biggest competitors. What skills, positions or departments do you lack? This will help you analyze their plans for the future and what you are missing.
Identify key players in your industry and gather information on them. This will help you create a database of potential candidates and compare them and build early relationships with them.