Mind Mapping Software
Unlock Creativity and Fuel Smart Idea Generation
Visualize ideas and concepts by creating attractive mind maps for effective brainstorming, creative thinking, resolving issues and so much more.
Map out concepts, ideas and thoughts on an infinite canvas
Brainstorm together and collaborate on the same workspace
Turn ideas into shared action plans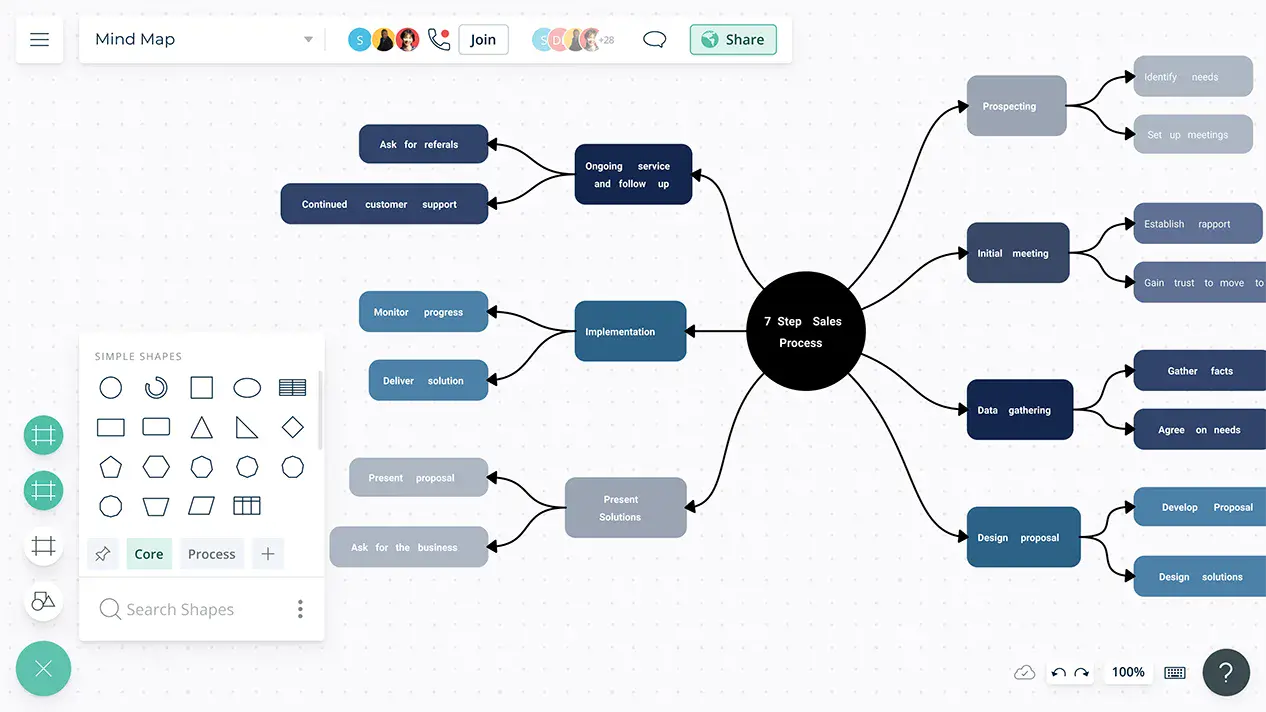 Over 8 Million people and 1000s of teams already use Creately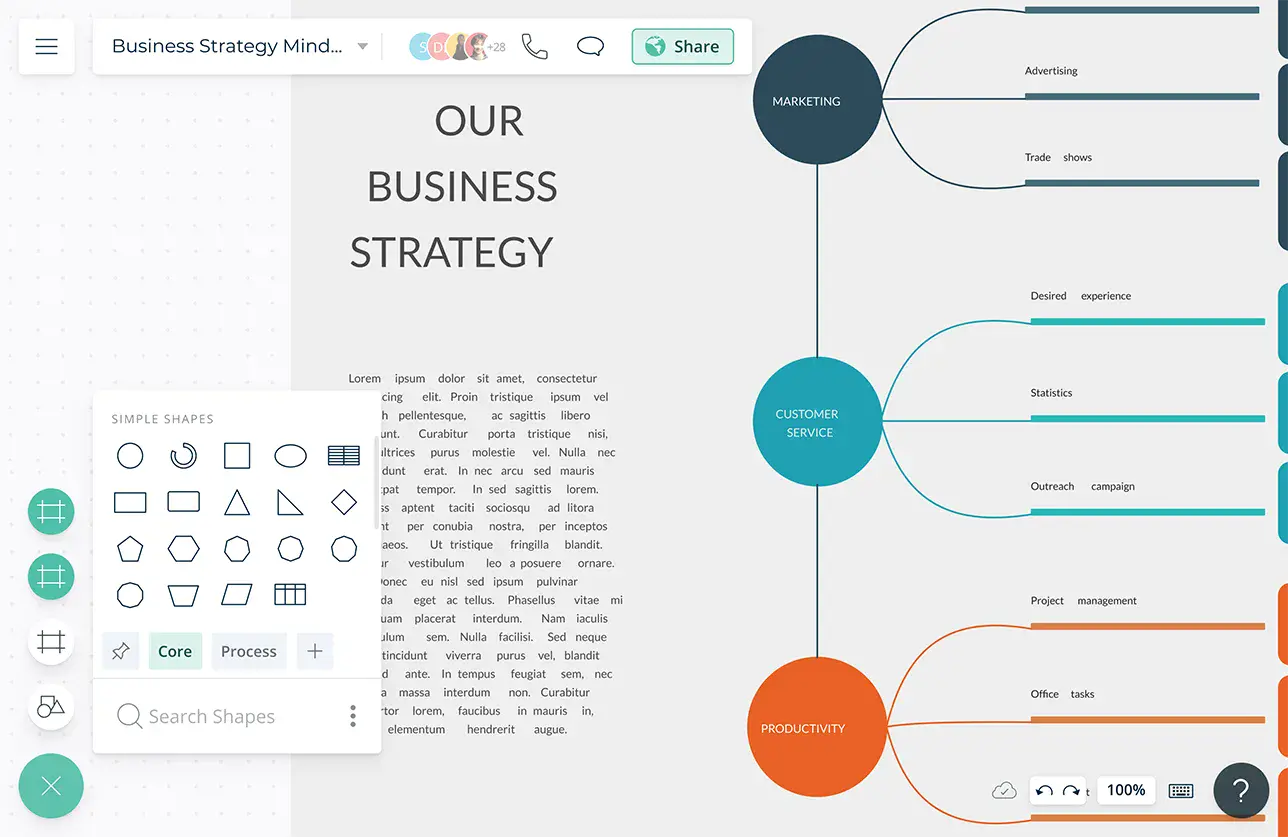 VISUALIZE
Visualize Ideas and Concepts in Minutes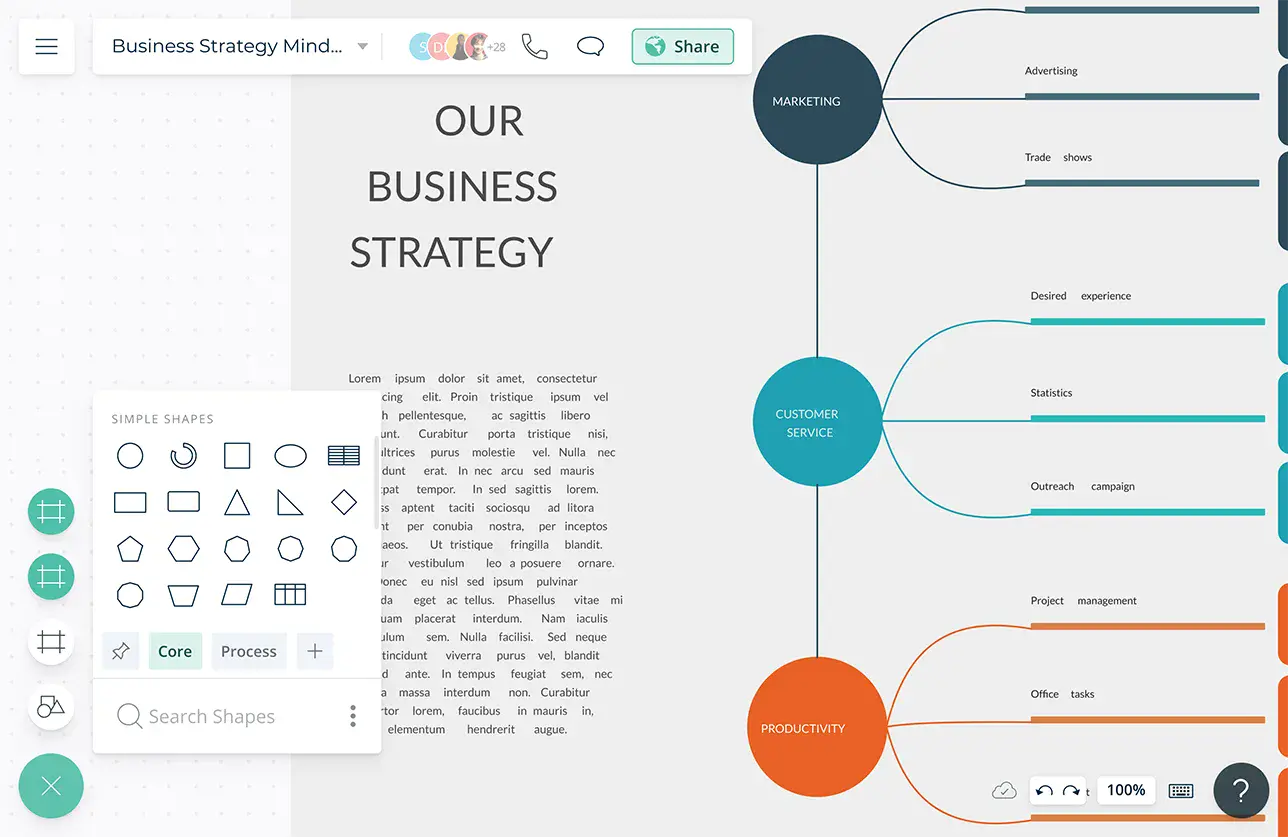 A vast template library of mind maps to get a head start on visualizing ideas and concepts.
Intelligent and purpose-built controls to easily link concepts and map strategies.
Drag and drop images, shapes, or information into the visual canvas to gather your data.
Use Plus Create and color themes to organize related concepts, ideas, and creative thoughts.
COLLABORATE
Run Brainstorming Sessions Together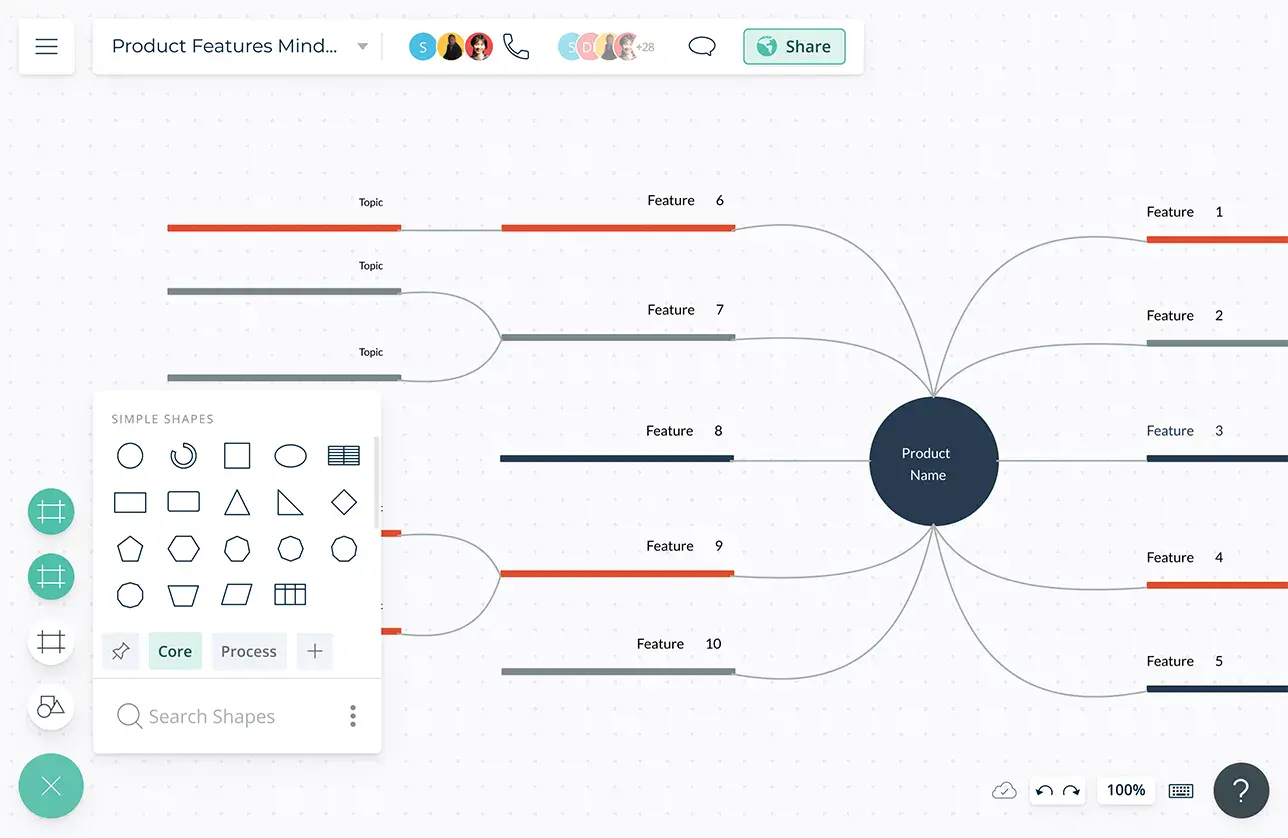 In-app conferencing to collaborate, brainstorm, analyze and discuss with your entire team in real-time.
Multiple user collaboration with asynchronous editing and automatic conflict resolution.
Sharing permission controls to enable workspace sharing with different levels of stakeholders.
Smart notifications to keep you up to speed with the changes.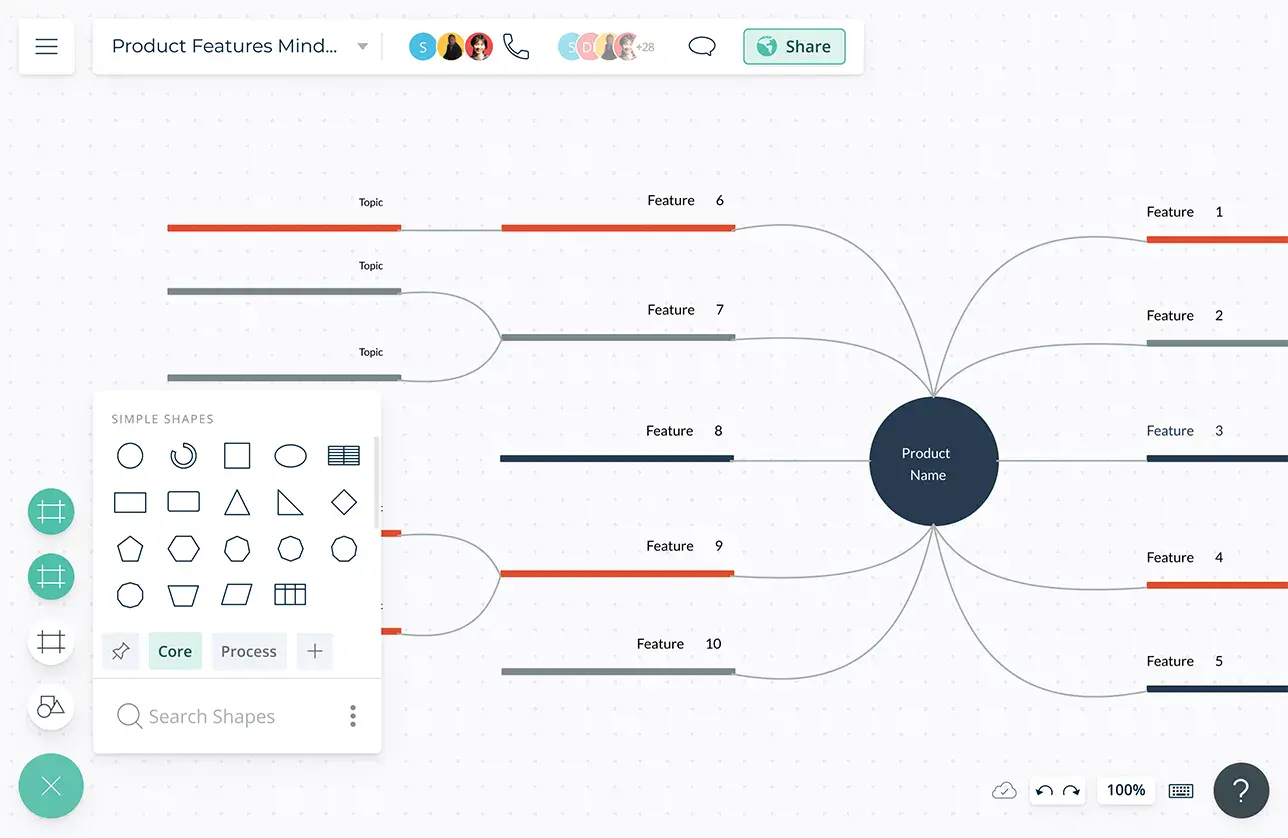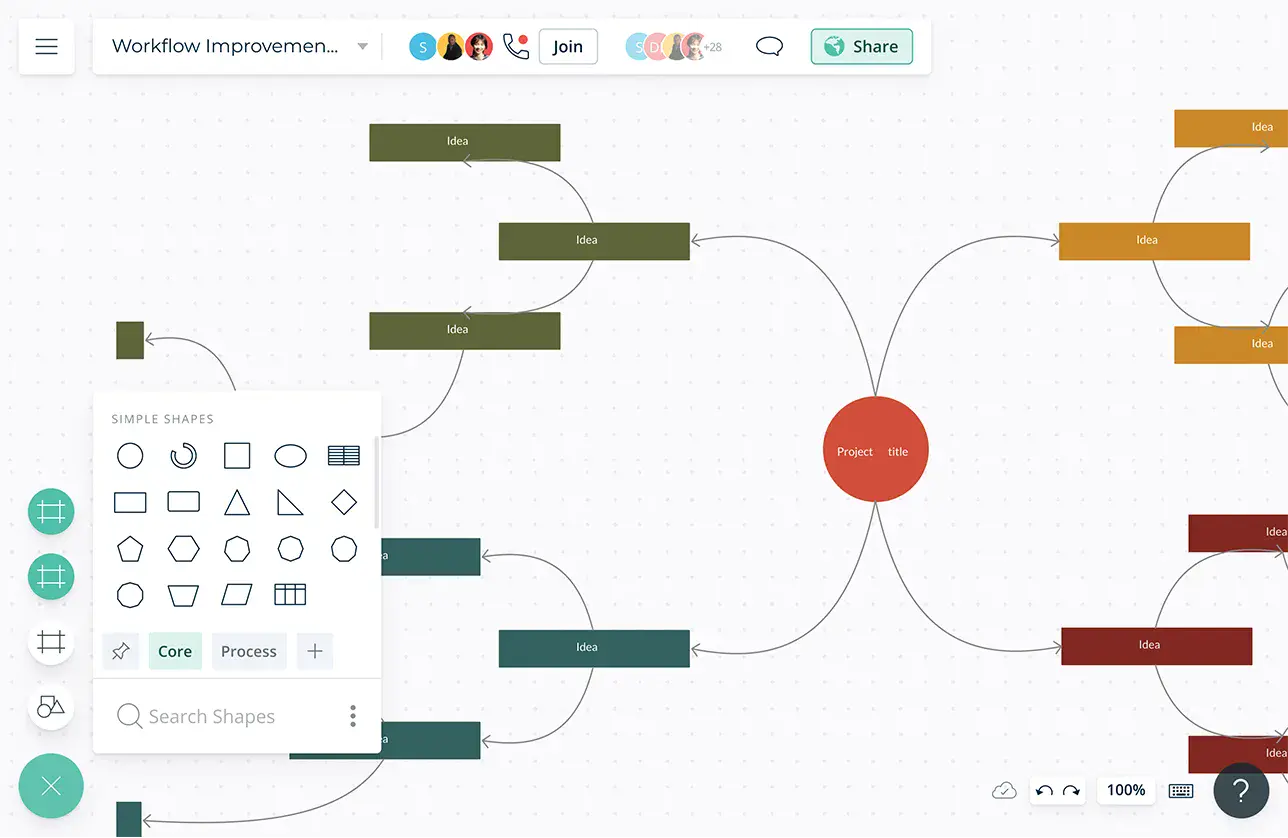 ORGANIZE
Limitless Idea Generation on a Single Workspace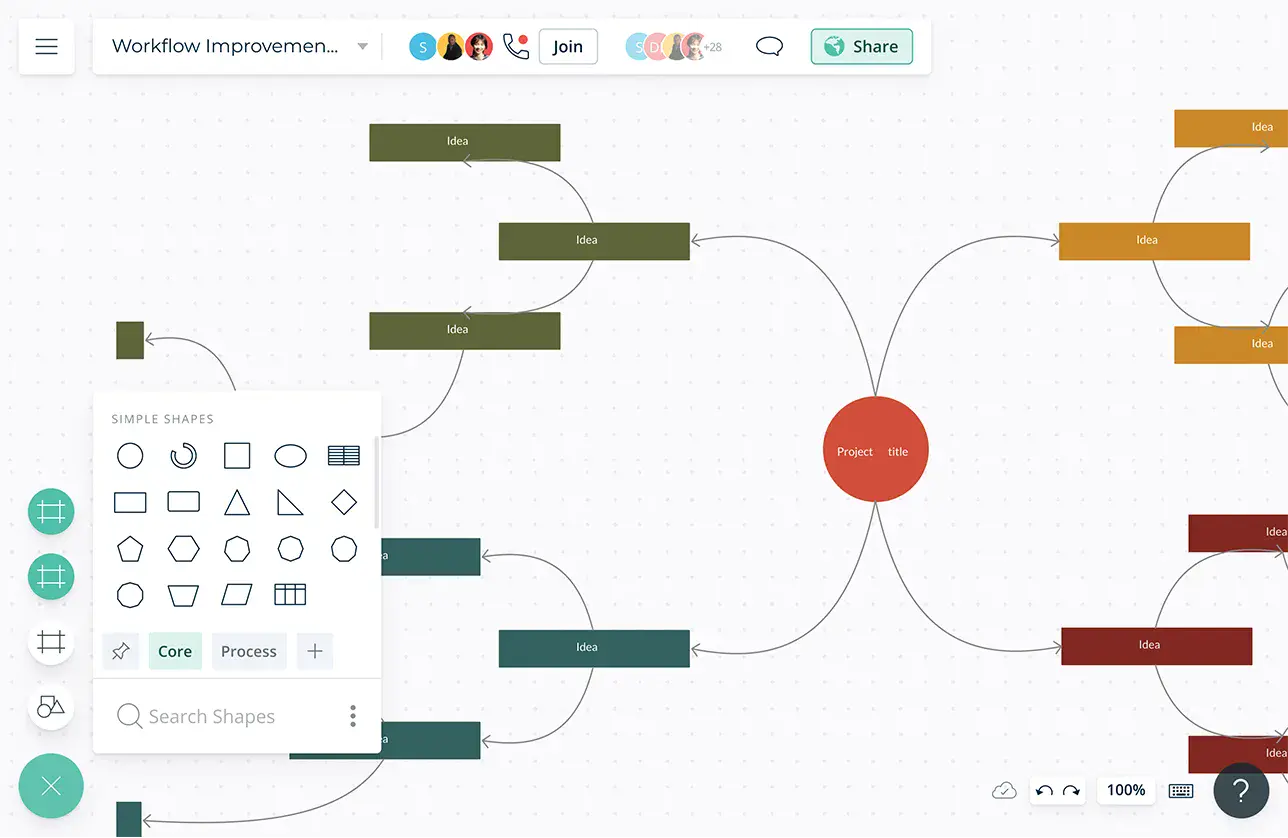 Version history to record and help keep up with all developments in the evolution of the workspace. Name versions in history to highlight key points for better organization.
Assign ownership to content and keep a record of each team member's contributions.
Import additional data from Excel, CSV, or Visio and store in additional data fields.
Export your mind maps in SVG, PNG, JPEG, or PDF formats for easy presentation or build multi page docs in app using frames.
What is a Mind Map?
A mind map is a visual representation of a concept and the ideas that are generated from or linked to it. It can be used for strategy mapping and formulation, problem-solving, brainstorming, and conceptualizing. Mind maps are extremely useful for those who are involved in creative fields, strategic planning, and education.
How To Create a Mind Map?
First, identify and select the key concept of your mind map. This is the core of the mind map, from where the branches will connect to other concepts. The key concept can be represented by an image related to your chosen topic. You can get creative with your mind map by using colour schemes, images, and shapes of your choice.
You can then add new ideas or concepts as branches that radiate from the key concept. With mind maps, you also can identify hierarchies and go in-depth by adding sub-branches and map out your thought process by connecting more branches to each idea. Connect each branch to a keyword related to the selected topic.
Once you have laid down the fundamentals for your mind map, you can start getting creative. Select a shape or an image for the key concept that fits your topic, Creately's mind mapping software offers a range of shapes from an extensive library, and you can even import images you would like to include in your work.
When it comes to organizing your ideas, you can color-code your mind map according to the area, topic, concept etc. Take your pick from a range of color palettes from Creately, and connect the branches to keywords.
Alternatively, you can select an editable mind map template from our template gallery and customize it according to your preferences and requirements. Creately offers a range of templates for different scenarios and topics.
With Creately, team collaboration on a mind map is a seamless process with in-app conferencing, where members can edit in real-time and give feedback. You can easily download the mind maps you create as SVGs, PNGs, JPEGs, or PDFs for printing, sharing or publishing, or invite anyone to collaborate on a project through an email or an invite link.
Mind mapping online has been easier with Creately. Ideally created for students, teachers and many others professionals. Start with a free account today!